Stone coated step tiles roofing sheets / roof tiles
ORIGINAL
stone
STEP TILES
coated
ROOFING SHEET FROM NEW ZEALAND AND SOUTH KOREA,
Stone coated roofing sheet or colour stone coated roofing sheet is the best way to describe what we do at Ehiro. Our focus is set on bringing you a lasting solution in roofing system. Since the invention of stone coated roofing sheet, there has been a remarkable prolonged life span in roofing, with stone coated roofing sheet, 95% of direct heat from the sun is repelled helping to make your house looks cool to live in.
At Ehiro:
We focus on simple, functional stone coated roofing sheet products that provide fast install times and an aesthetic look to suit any architecture.
Ehiro stone coated steel (metal) roofing sheets come in different colours and shapes to perfectly meet your style. When talking about durability, our stone coated roofing sheets can withstand prolonged rain, sun heat, wind storm and noise with 30 years+ of proven reliability.
How We Go To Market
Ehiro sells innovative line of colour stone coated roofing sheet products both in
Lagos
and other parts of Nigeria.
Why Ehiro?
Ehiro ' superior product features are the result of years of research and development on exclusive processes. Key differences are:
Ehiro STEEL: Highly corrosion-resistant AZ-50 Galvalume® steel coated with specially prepared & treated with proprietary primer to enhance acrylic adhesion.
Ehiro BASECOAT: Proprietary special formulation developed by the world's largest resin supplier to promote long-life performance in all climates.
Ehiro STONE CHIP: Finely graded, non-oiled, natural granite granules that enhance adhesion and provide the tightest granite stone coat matrix on the market today.
Ehiro ACCESSORY DESIGN: SMARTvent stone-coated ventilator panels fully integrated into the roof field with no need for special flashing. SMARTjack stone-coated 3-in-1 type vent pipe flashings with self-sealing rubber gasket and aluminum base. SMARTsleeve stone-coated and soon-to-be-released vent pipe sleeve cover to perfectly finish pipe penetrations. Eave Riser metals and Rake Channels that incorporate the unique "Locator-Lip" for easy positioning and installer error-free installation.
TESTED: Every roof is backed with 30 years+ life span -a major plus in today's housing market. We take pride in our products.
At Ehiro, we strongly believe in optimal customer satisfaction and absolute value for money. Coming to the building market in Nigeria, we deliver upon our words by making available, affordable colour stone coated steel roofing system, and by this, you are sure of having a lasting stone coated steel roofing products.
Ehiro Stone coated roofing sheet products are reliable, dependable and long lasting. The quality of our stone coated roofing sheet can stand all weather.We believe in our stone coated roofing sheets as they give you the perfect value for money. We are one of the best stone coated roofing sheet dealers in
Nigeria
with records of success in customer support and satisfaction.
We give important tips on installation of stone coated roofing sheet, and we assure you of excellent products performance.
Advertisement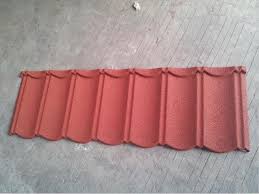 Stone coated step tiles roofing sheets / roof tiles
Advertisement

Write review
Leave your comments on this ad
Offensive messages and spam will be removed
Related ads